Serengeti Hoodie
Regular price
$247.70 CAD
Regular price
Sale price
$247.70 CAD
Unit price
per
Sale
Sold out
Size Guide
Experience the epitome of comfort and simplicity with the Serengeti Hoodie by eavolu®. Crafted from our exclusive Eco-Luxe Fleece, this hoodie is designed to envelop you in sustainable luxury, keeping you cozy throughout the day.

The Serengeti Hoodie is thoughtfully designed to fit slightly looser than other eavolu® styles, catering to a wide range of body types. Its comfortable fit and quick-change design make it easy to transition seamlessly from a workout session to a busy workday. Whether you're commuting, running errands, or hitting the gym, this hoodie is the perfect go-to choice for a day of unparalleled comfort and style.

Indulge in the luxurious feel of the Serengeti Hoodie while making a conscious choice for sustainability. eavolu® brings you a garment that combines fashion, comfort, and eco-consciousness, ensuring that you can enjoy the cozy warmth while knowing you're making a positive impact on the environment.
Sustainable.  Eco-Friendly.  Made in USA.  Compostable Packaging.
FIT
The Serengeti Hoodie by eavolu® is the ultimate oversized fit for maximum comfort. Long sleeves, thumbholes, deep pockets, a deep hood, and drawstrings make this piece the favorite "go-to" for daily wear. You'll feel cozy and stylish, no matter what you're doing.
The Serengeti Hoodie is designed to fit loosely for an oversized and comfortable fit. The body length measurements for each size - Size 1 = 32.75", Size 2 = 33.75", Size 3 = 34.75" - ensure maximum coverage and comfort. The bust/chest measurements - Size 1 = 42.5", Size 2 = 45.5", Size 3 = 48.5" - are generous, providing a relaxed and comfortable fit for all body types. The cross-shoulder measurements - Size 1 = 21.75", Size 2 =22.5", Size 3 = 23.25" - allow for ease of movement, and the sleeve measurements - Size 1 =27.25", Size 2 = 28", Size 3 = 28.75" - ensure that your arms are comfortably covered.
The Serengeti Hoodie is available in general sizing - Size 1 = XS/S, Size 2 = M/L, Size 3 = XL/XXL - with the recommendation to size down for a less roomy fit. Even our model, who is 5'8", with a 25" waist & 25" hips, 32A Bust, Dress Size XS, wears size 1.
So why wait? The Serengeti Hoodie is the ultimate oversized fit for all your comfort needs, and it's ready to become your new favorite go-to piece for daily wear.
FABRICATION
The Serengeti Hoodie by eavolu® is made with an exclusive eavolu® Eco-Luxe Fleece that is truly buttery soft and cozy. Our premium fabric is made with a blend of 49% Supima cotton, 48% Lenzing Tencel™ Modal, and 3% Spandex, providing the ultimate in comfort and durability.
Our Serengeti Hoodie is designed with 4-way stretch for maximum comfort, allowing for easy movement throughout your day. The premium fleece fabric feels amazingly soft to the touch, providing a cozy and comforting feel against your skin.
Eavolu's commitment to sustainability is reflected in our eco-conscious fabric, which you can read more about under our Signature Fabrics / Sustainability section. And when it comes to caring for your hoodie, simply machine wash cold on gentle cycle, inside out, with like colors. Avoid washing with towels and do not bleach. For optimal results, tumble dry low or hang-to-dry to save energy and help your garment last longer.
Experience the ultimate in buttery softness and coziness with the Serengeti Hoodie by eavolu®. Our premium fabric and commitment to sustainability will make you feel good, both inside and out.
ECO-FRIENDLY
At eavolu®, we're committed to reducing our carbon footprint and promoting sustainability in every aspect of our production process. That's why the Serengeti Hoodie was created entirely in Los Angeles, minimizing the environmental impact of transporting materials and garments across long distances.
Our garments are crafted from the softest Supima Cotton, which is produced locally, and Tencel® Modal by Lenzing, a company with a strong commitment to improving the environment. Our eco-conscious materials help to ensure that the impact on the environment is as minimal as possible.
We also take care in our packaging. Our garments are carefully tucked in compostable and biodegradable bags, and our hangtags are made from recycled paper. Even our care instructions are designed to help save energy, making sure that our customers can continue to make sustainable choices even after purchasing our products.
At eavolu®, we believe in promoting sustainable fashion and are dedicated to reducing our carbon footprint in every way possible. We're proud to create high-quality, stylish, and comfortable pieces like the Serengeti Hoodie while maintaining our commitment to sustainability.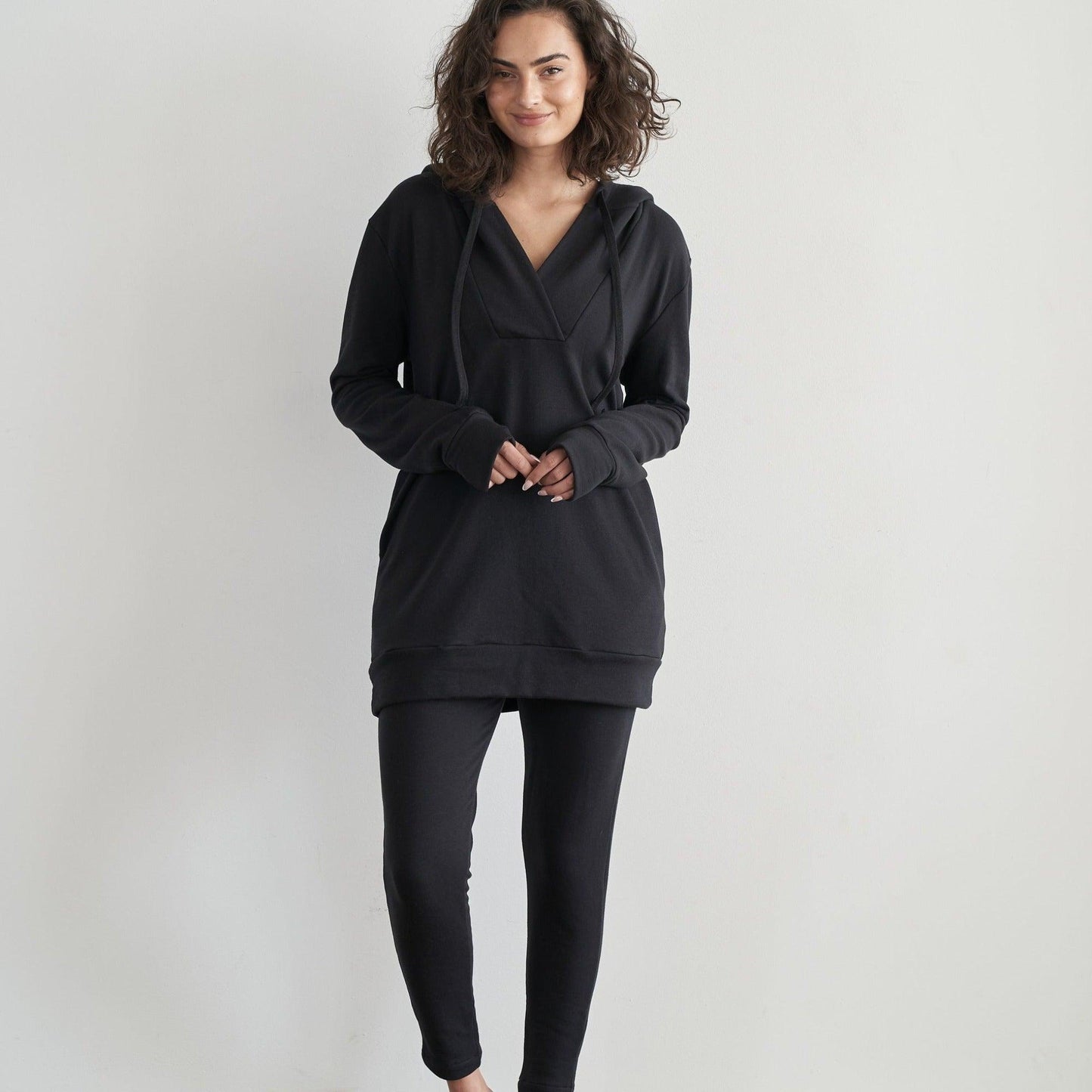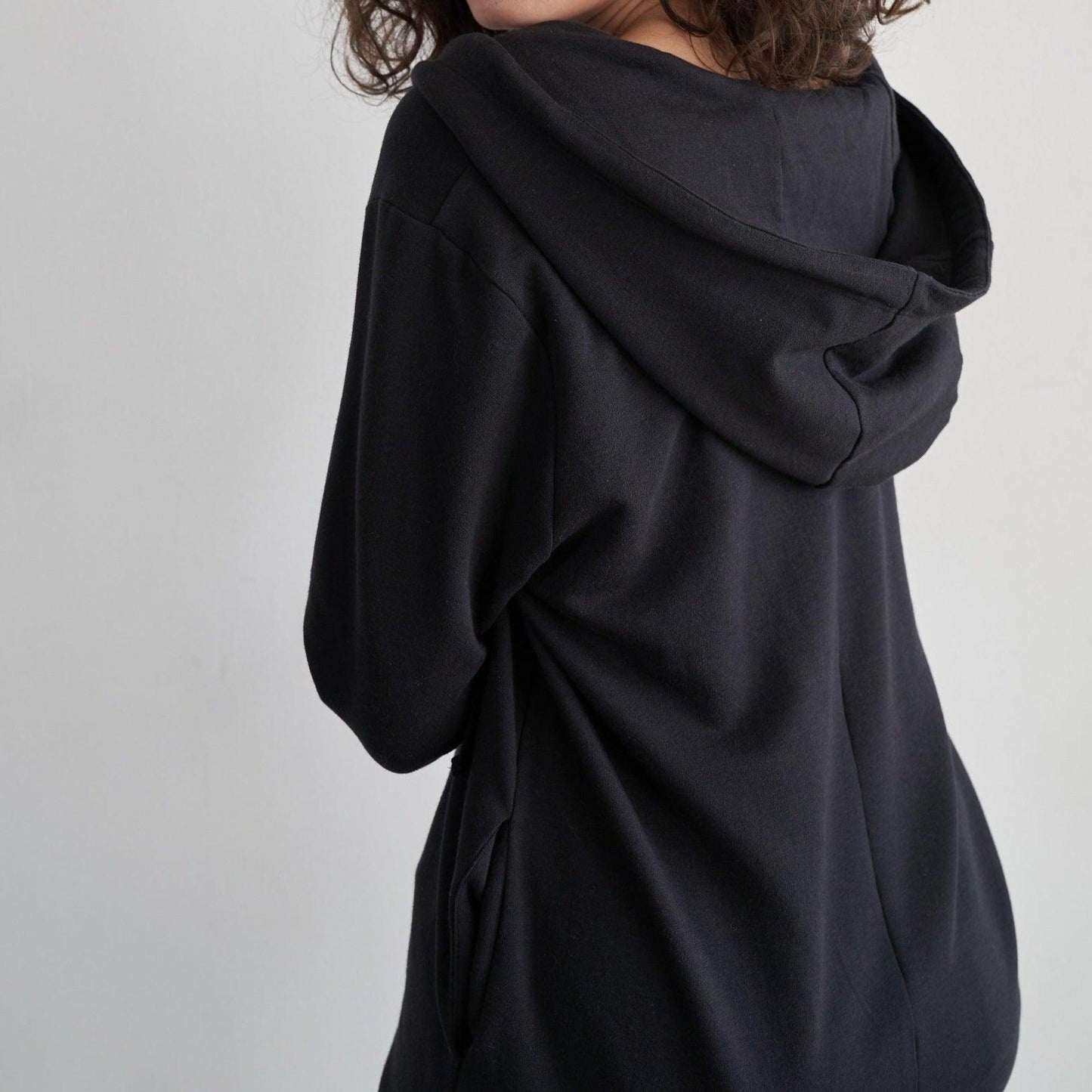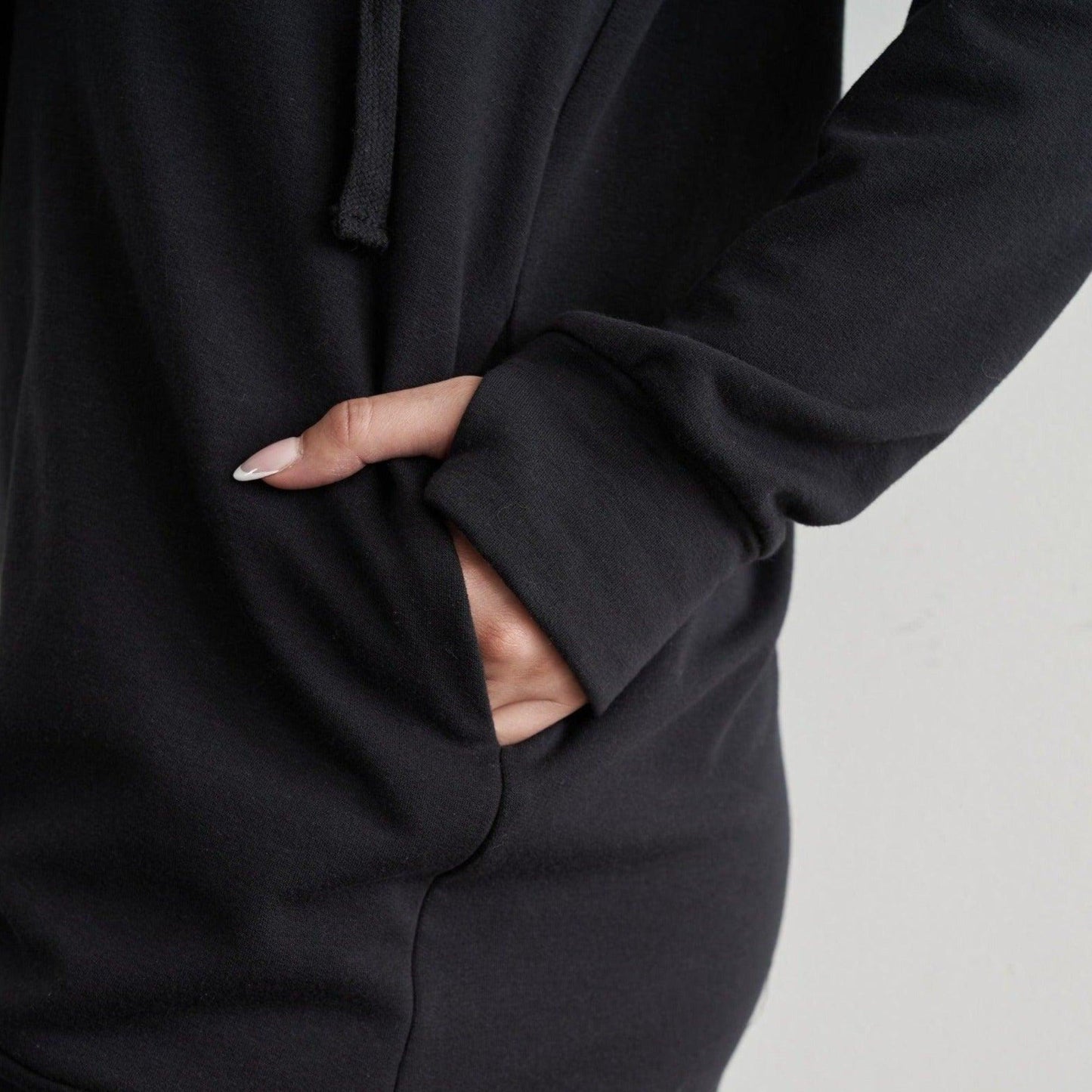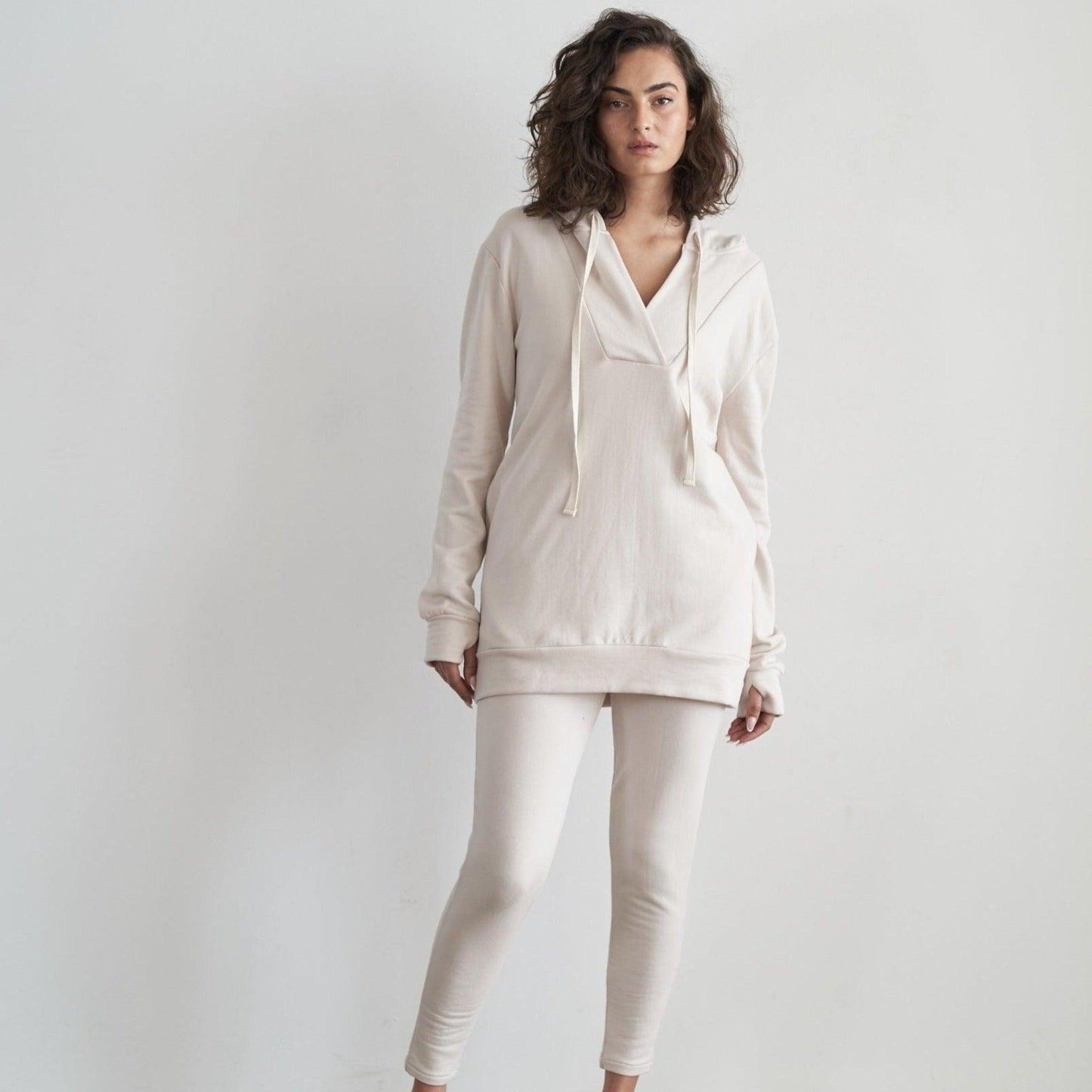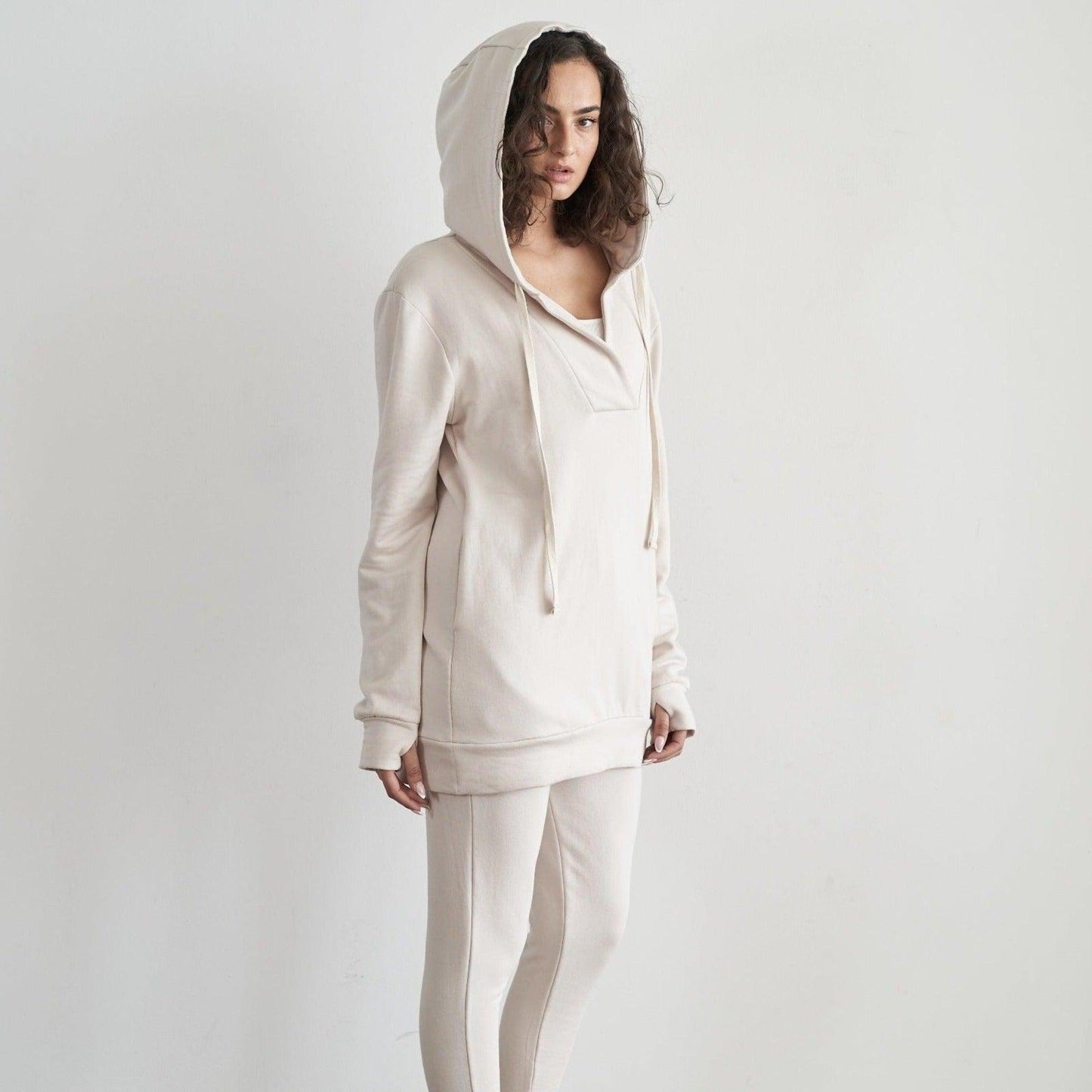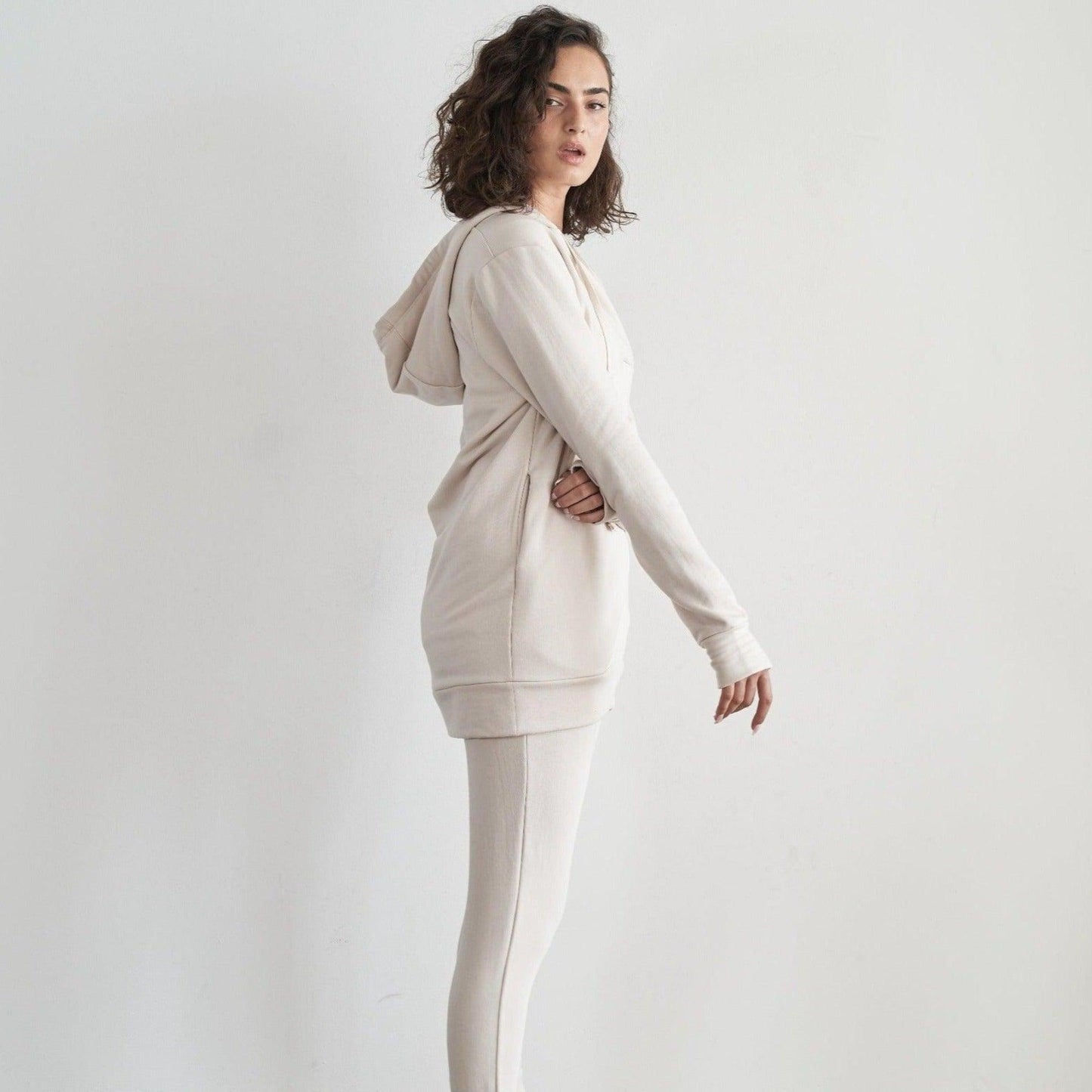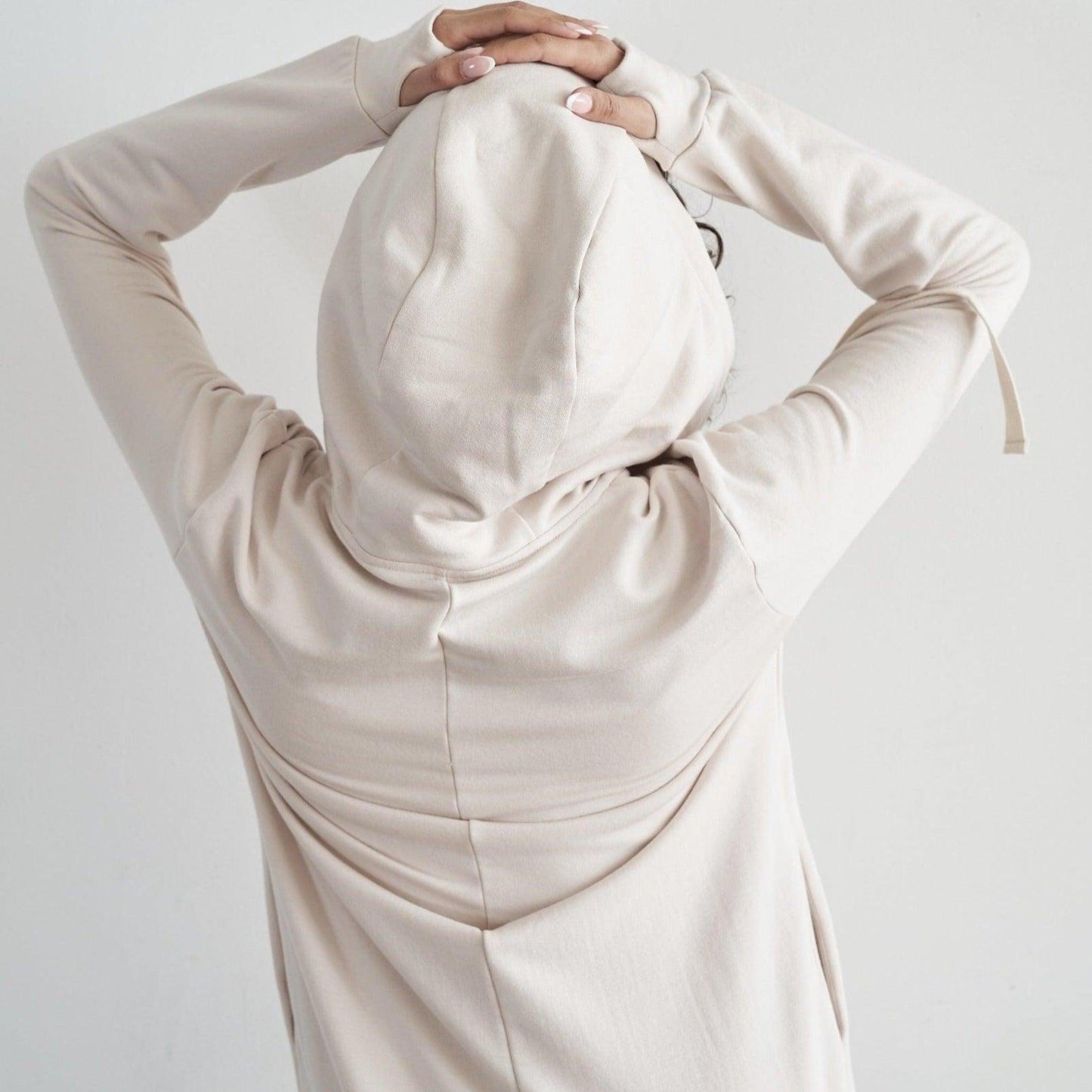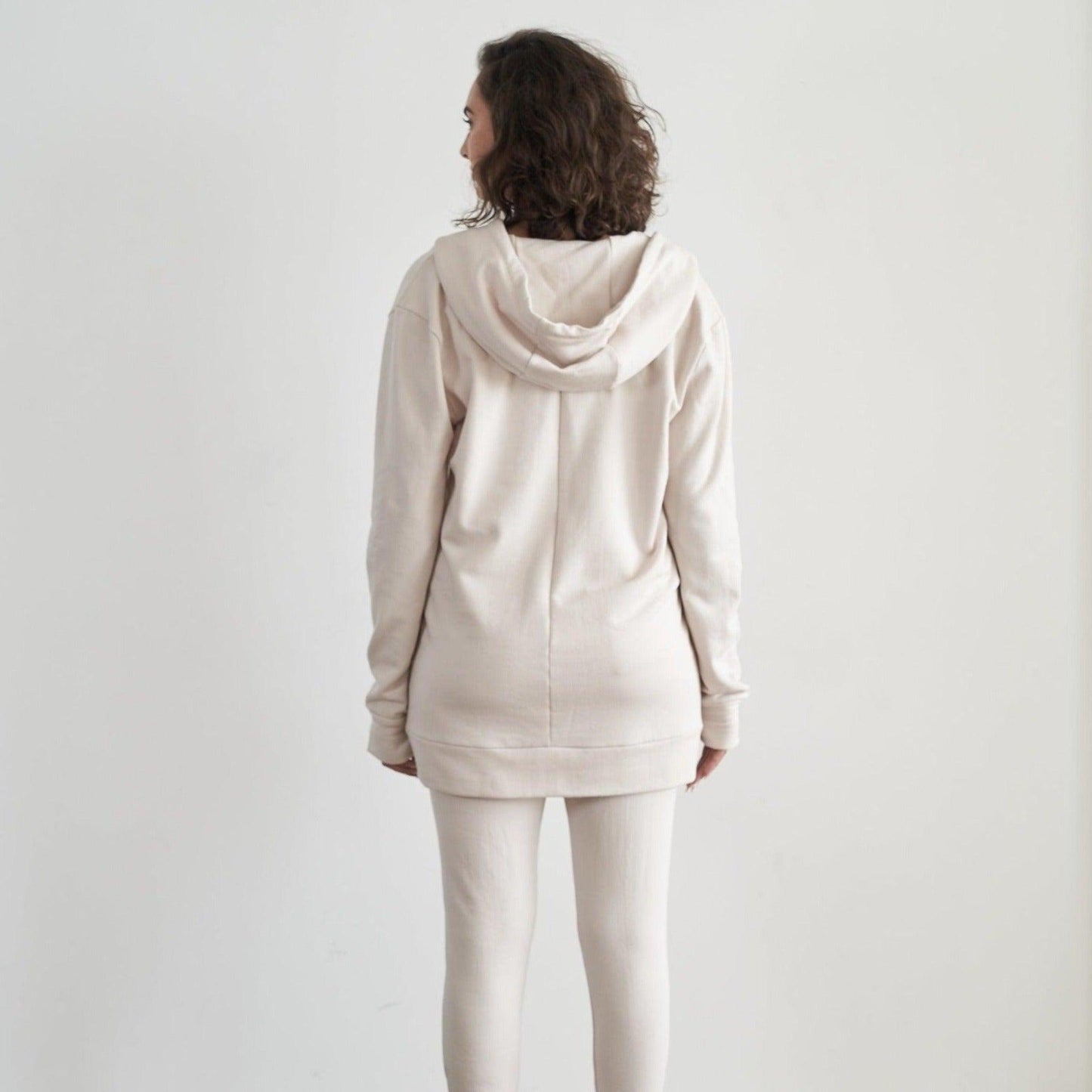 Size Guide
eavolu® garments flatter your unique shape and flow of movement and are engineered with premium eco-friendly yarns & fibers for exceptional softness and comfort to fit various body types.
Please utilize the size guide below for general suggestions for the most comfortable fit for you.  If you have any questions or concerns, please do not hesitate to reach out to us at hello@eavolu.com, and we will help you figure out what size might work the best for you.
Please note that the descriptions with eavolu® styles on the product pages, often given additional guidance for that particular style/fit.
General Sizing (please refer to each Style's description as well)
SIZE
XXS
XS
S
M
L
XL
XXL
COMPARABLE SIZES
0
2-4
6-8
10-12
   14
16-18
20
BUST
32½
33½-34½
35½-36½
37½-39
40½-42½
44½
47½
WAIST
25
26-27
28-29
30-31½
33-35
37
40
HIPS
 
36½-37½
38½-39½
40½-41½
43½-44½
46½-47½